Northwest DC Neighborhoods Feature Some of the Best in Luxury Real Estate.
Washington D.C.'s northwestern neighborhoods offer a more relaxed, suburban lifestyle for those ready to escape from the endless hustle and bustle of the city. But deciding which neighborhood is right for your family can be difficult. With that in mind, we're here to help give you a glimpse of some of the most sought-after DC neighborhoods, from Kalarama to Au Park.
1. Kalorama
Nestled within the Northwest Quadrant of Washington, D.C., has a reputation for being one of the most prestigious and upscale neighborhoods in the area. This dignified neighborhood is composed of two areas: Kalorama Triangle and Kalorama Heights. Each has a wealth of luxury real estate and is populated by diplomats, senators, and successful entrepreneurs. Additionally, Kalorama is valued for its convenience and ideal location. With a plethora of exciting activities within walking distance, life here is far from boring. Chef-driven restaurants, impressive art galleries, and foreign embassies further elevate the status of this neighborhood. Additionally, the Metro station links commuters to all of D.C., Northern Virginia, and suburban Maryland.
2. Mass Ave Heights
Built under the shadow of the awe-inspiring Washington National Cathedral, is a place where high society flourishes. This small, triangular neighborhood lies between Massachusetts Avenue and Garfield Street, where you'll find a plethora of single-family homes housing some of the city's most elite citizens. Mass Ave Heights is composed of quaint tree-lined streets and impressive homes — including many luxurious estates and modern-style homes. Homes in this elite community fall in the one to three million dollar range and upwards. The nearby Wisconsin Avenue features a variety of restaurants and shopping, including a Whole Foods, Cafe Deluxe, and Alero.
3. Cleveland Park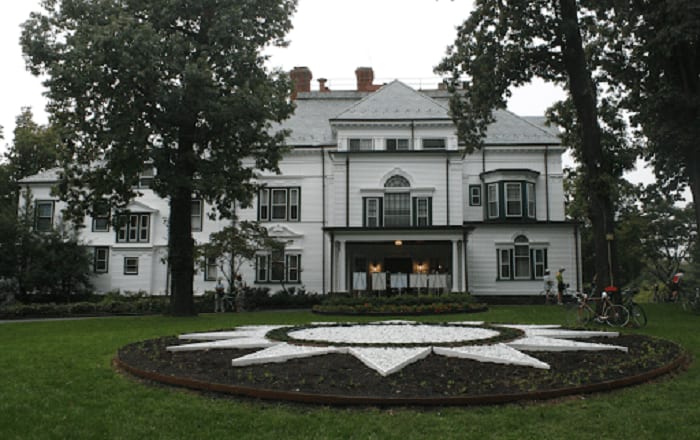 A residential neighborhood, is known for its charming Queen Anne-style homes, tree-lined streets, and friendly neighbors. This historic community is bounded by Rock Creek Park to the east, Wisconsin and Idaho Avenues to the west, Klingle and Woodley Roads to the south, and Rodman and Tilden Streets to the north. With a variety of shops, restaurants, and retailers on Connecticut Avenue, Cleveland Park residents have plenty to enjoy.
The parks and open spaces, laid-back environment, and charming homes are just a few other attributes that draw people here. Additionally, residents here enjoy a small-town feel with all the conveniences of the big city in close proximity. Cleveland Park is home to individuals from all walks of life, but families are especially attracted to this charming community.
4. Wesley Heights
Since being developed in the 1920s, has evolved into a thriving and highly sought-after community. This picturesque neighborhood is located several miles northwest of downtown D.C. and offers residents a quaint, suburban lifestyle. Homes nestled on generous lots line the tree-shrouded streets, giving the neighborhood a storybook feel. The convenient location downtown makes this neighborhood popular among young families.

Wesley Heights is flanked on both sides by expansive green spaces and features luxurious homes. There are shops and restaurants galore here, all located within walking distance. The ample green space that circles the neighborhood presents residents with plenty of opportunities to connect with nature.
5. Dupont Circle
is famous for its famous traffic circle with a fountain perched in the center. But this neighborhood is so much more than just that. Since the late 19th century, Dupont Circle has been a pivotal D.C. community. This neighborhood embodies an urban, hip vibe featuring modern real estate, and there's plenty in store for those lucky enough to live here. Bistros, bars, restaurants, and boutiques line Connecticut Avenue. Regardless of your interests or hobbies, there's something for you in Dupont Circle.
6. Logan Circle
One of the city's most historically rich neighborhoods, has a long and fascinating history. Three and four-story stone and brick townhouses surround the traffic circle (aptly named Logan Circle). Known for being a trendy neighborhood, this area attracts a younger crowd of residents. If you're looking for a fun night out on the town, 14th Street is packed with top-notch restaurants, stylish bars, and unique stores. It's no surprise that Logan Circle has become one of the city's most popular neighborhoods!
7. Georgetown
Nestled in the oldest part of the city, abounds with fascinating history. This charming area is known for its idyllic Federal-style homes and tree-lined cobblestone streets. Loved by residents and visitors alike, Georgetown is home to some of the city's most elite shops, luxurious hotels, and finest restaurants. Additionally, Georgetown is celebrated for its historic, stately houses. Housing options here include everything from townhomes to single-family homes to illustrious mansions.
New construction is minimal in this area, so only the luckiest get to call this impressive neighborhood home.
8. Woodley Park
Located across from Rock Creek Park, has plenty to offer its residents. This leafy neighborhood offers the perfect option for those who want to live close to nature. Here you'll find the classic row homes, luscious green lawns, and tree-lined streets that make Woodley Park one of the most serene residential neighborhoods. But this peaceful neighborhood is anything but boring! Its top attraction is the , home to the famous pandas. With a quiet charm that is hard to come by anywhere else in the city, Woodley Park offers an oasis from the hustle and bustle.
9. Chevy Chase
If you're looking for somewhere with a small-town feel, might just be the neighborhood for you. This tight-knit and friendly community falls within Montgomery County and stretches into D.C. A trip to the city is a breeze, thanks to the convenient public transportation available. Chevy Chase is defined by pleasant single-family homes, plenty of green spaces, and some much-needed peace and quiet. Here you can enjoy all the advantages of small-town living with all the conveniences of a big city close by — talk about the best of both worlds!
10. Au Park
Located next to the prestigious American University, is a gorgeous neighborhood situated on the outskirts of the city. Au Park — short for American University — consists primarily of single-family homes in a variety of styles. With plenty of options for dining, outdoors exploration, shopping, and entertainment, residents never have to stray far away from this cozy neighborhood.
11. Mount Pleasant
is an upbeat neighborhood located in the northwestern quadrant of the city. This neighborhood has humble origins as a streetcar suburb, but now Mount Pleasant features an array of housing types and its own main street. Picturesque, historic row homes and apartment buildings line the main street, creating a cozy ambiance. This lively neighborhood is perfect for those who commute to the city for work but want to live in a more tranquil environment.
12. Adams Morgan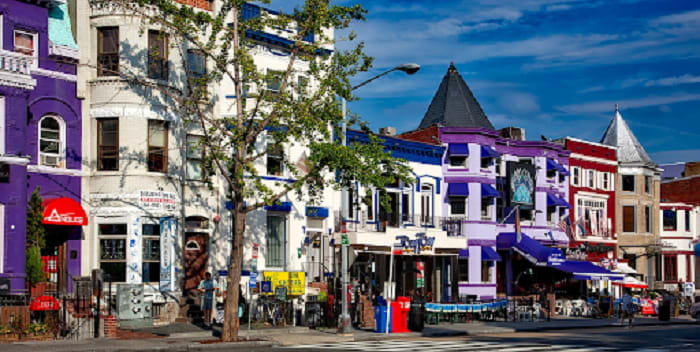 is a vibrant place known for its exciting nightlife. But this up-and-coming neighborhood has much more to offer than just a good night out on the town. Adams Morgan is home to a plethora of cozy bookstores, interesting local stores, tasty eateries, and upbeat bars. Young professionals, commuters, and families make up the majority of residents here.
Mingle with your neighbors or get to know new friends at the festival. This annual festival has been a celebrated part of the neighborhood for the past 40 years. As D.C.'s longest-running festival, this popular event is packed with music, dance, food, and history. You won't want to miss out on the fun!
13. Eckington
Famous for being one of the city's oldest neighborhoods, Eckington has seen many changes throughout the years. Today, this area is known for being a family-friendly area that is perfect for those who want a simpler, quieter lifestyle. Eckington offers a mix of homes, including many historic residences that speak to the neighborhood's history. Stop and smell the roses at the . This 412-acre botanical garden is a great place to spend the day in the sunshine. If you're looking for something a bit more entertaining, head over to the to enjoy a live show.
14. Bloomingdale
might just be spread over 12 square blocks, but this cozy community offers a range of experiences. Situated less than two miles from the Capitol building, Bloomingdale is famous for its storied Victorian row houses. Here you can find everything from award-winning restaurants, public parks, and bars in the charming downtown district. This neighborhood is one of the city's best-kept secrets.


If you are ready to make the move to Northwest DC, contact Hagen-Bergstrom today. From Forest Hills real estate to Woodley Park real estate, this experienced team serves a wide range of neighborhoods. Their expertise and dedication to clients will assist you in the process of finding a perfect home.