Everything From Color Correction to the Texture Tips You Need
This winter, turn your house into a place of relaxation by looking to the Danish for inspiration. Hygge is a Danish term for a cozy mood that cultivates contentedness, and this sensibility came into the spotlight when happiness researcher 's book, , was published in 2016. Let the pursuit of coziness lead you to new and inventive home decorating. Here are fourteen ways to turn your Kalorama home into the ultimate hygge homestead.
1. Find the Right Wreath
Your first steps into the house set the mood, so your journey to cultivating a cozy house begins at the front door. Using fresh greenery for a wreath is a surefire way to set the tone for winter, and you might consider using boughs of holly, pine cones, or dried wheat in your displays. If you're tired of the same winter foliage being used, consider making from well-worn sweaters, tufted wool, or balls of yarn for a unique textile display that will stand out from your neighbors.
2. Infuse Warmth With Color
One of the most visceral tactics for changing the way a room feels is by switching its color palette, and don't worry—you won't have to paint the walls. There are much smaller seasonal ways to alter the color of a space. Using the 60-30-10 design rule, wherein 60% of your room is a primary color, 30% is an accent shade, and 10% is a complementary hue, you can play with the smallest portion of that ratio to curate a wholly different feel. Swap out gray tones for warm siennas or mix and match metals.
3. Showcase Texture
Rooms without texture can often feel sterile, like a chrome-slicked laboratory or a monotone cell. Avoid feeling trapped in your home this winter by emboldening your space with three-dimensional texture. Pillows with woven elements, galvanized buckets filled with kindling, and burlap accents all make excellent winter additions. Add a chunky knit blanket to the foot of your bed, buy or birchstick candle holders for an earthy element, or mix and match metal hardware.
4. Spruce Things Up Inside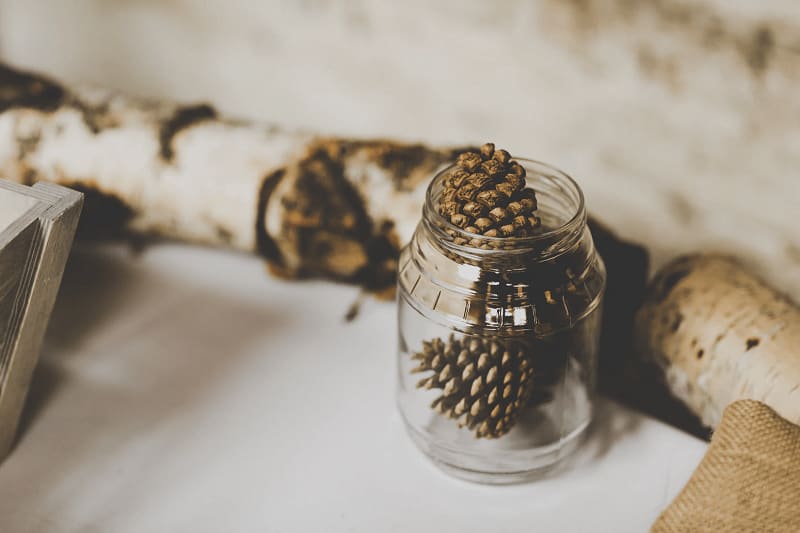 Adding winter greens to your decor can bring a breath of fresh air to your space by reconnecting it with nature. Utilizing sprigs of evergreen in your countertop bouquets will give your kitchen a sense of earthiness, or fill a vase with pine cones for a festive centerpiece. Other winter favorite green touches that suit the season include holly, mistletoe, pine, dried yarrow, and cypress. Greenery and winter berries are seasonal accents that are appropriate long after the holidays have passed and will keep your space rooted in nature until spring arrives.
5. Go Antiquing
Antique artifacts are imbued with such rich history that adding a found treasure to any space can instantly give the room an extra level of warmth. You never know what you'll find when you look through antique collections—rotary telephones, first edition books, and retro magazines all make excellent design impacts. If you have a record player, hunting for vintage vinyl to use both as decoration and entertainment is a twofold way to level up your living room.
6. Rest Your Eyes
Utilizing dimming bulbs is an excellent way to set the mood this winter. Harsh white light can strain your eyes when the nights are long, and installing dimming lights can give you more control over your environment. Additionally, consider swapping out cool toned bulbs for warmer ones. Light color is measured in Kelvin, and warm light ranges between 1,800 K and 3,000 K, while cold temperature light can be found around 5,000 K. What does that mean? The stark light from cold temperature light bulbs can be largely unflattering and give your space a sterile feel akin to a hospital room or a school gymnasium. Not cozy! Some lights, like these , span the color spectrum and can be scheduled to accommodate your circadian rhythm and mimic the natural light of the sun.
7. Cozy Carpets
Kalorama's stunning historic homes often boast polished hardwood flooring, so you know how frigid the boards can get during the winter months. Eliminate cold toes by unfurling plush rugs. These textiles are both decorative and practical. These statement pieces are like artworks that imbue another dimension to your room, and adding a rug beneath your couch or your bed can instantly transform a space. For a bohemian-inspired atmosphere, consider layering multiple rugs to give your room even more texture. If you're hoping to cozy up in the bathroom, don't forget to add a fluffy bath mat.
8. Eliminate Harsh Lines
Softening hard lines is a surefire way to instantaneously double the coziness of your room. Crisp, austere design can sometimes feel stiff, and if you find it hard to relax in that environment, try adding a round rug to your living room floor, tossing a knitted blanket over the arm of your couch, or draping a sheepskin pelt across the back of an armchair.
9. Light It Up
Candles provide warmth and light in the deep of winter when we need it most, and they can be a pivotal design tool to change the evening ambiance of any room. The soft, diffused light from a candle is not nearly as harsh as a stark incandescent bulb and creates a cozy, relaxing environment. Lighting a candle with a rich, comforting scent is also a way to instantaneously up the hygge factor of your space. Dainty, unscented tea lights are an excellent option for anyone hoping to avoid fragrances while still adding a touch of light. If you have young children or pets who concern you around an open flame, try an LED alternative. These battery-powered boast realistic-looking flames that ebb and surge, lolling on the wick just as a real flame would. When tucked inside a mercury glass candle holder, your guests will never know it isn't a genuine candle.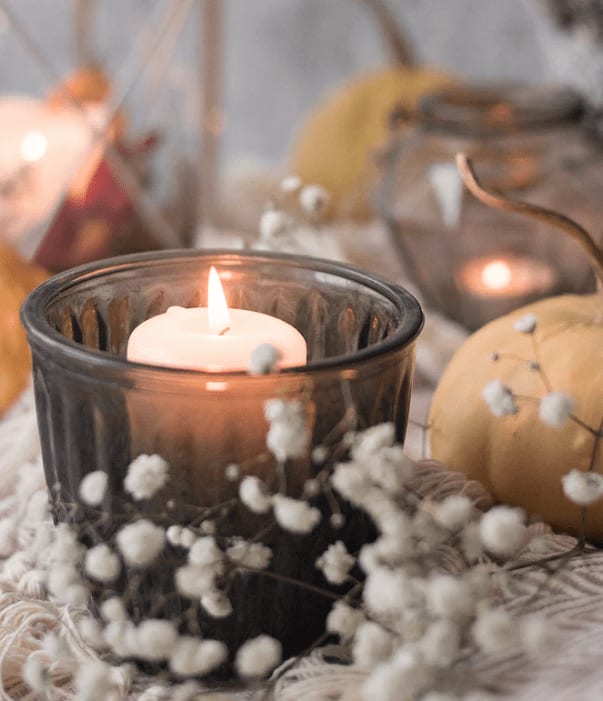 10. Style Your Bookshelves
Reader or not, here you come. Books have the unique ability to infuse a room with texture and create dimension where it wasn't previously. If your home has built-in bookshelves, you'll want to make the most of them! Otherwise, there is a myriad of standing bookshelf and wall shelf designs that will add instant dimension to your living room, study, or bedroom. Hunting through secondhand shops for vintage books makes for a perfect activity on a chilly day, and you can run home and display your new finds. For a different look, consider situating your books with the pages facing outward. The deckled edges provide visual texture with a soft, neutral color.
11. Decorate the Mantel
After the holidays, your fireplace doesn't have to turn drab. In fact, accenting the fireplace is an excellent idea as you snuggle around the hearth to keep warm during cold nights. Pillar candles, fresh greenery, and books make excellent decor for the fireplace. Silver and white are also popular winter color palettes for your mantelpiece, but feel free to think outside the box with wood and burlap accents for a rustic flair or gunmetal and gold for a dramatic finish. For an extra boost of coziness, fill a heat resistant bowl with water and two cinnamon sticks and set it on top of your fireplace. As the heat transfers and warms the bowl, your house will be filled with an irresistible scent.
12. Wooden Accents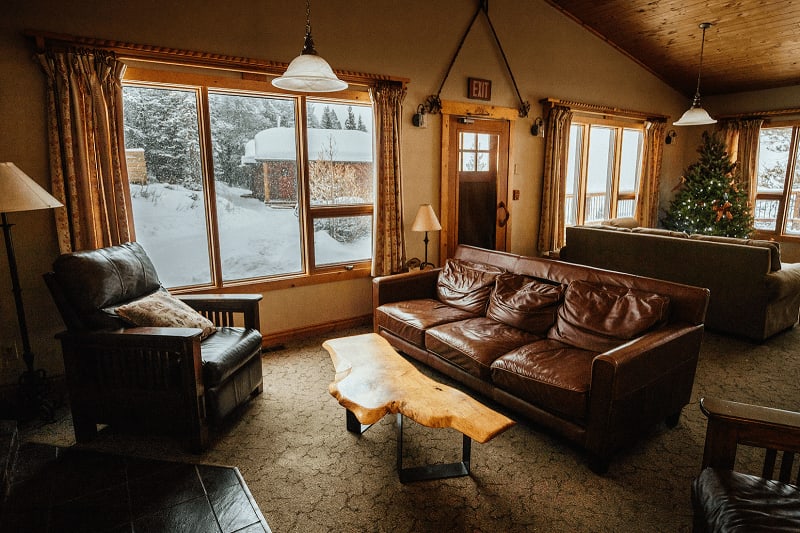 Wood pieces have an innate earthy quality and give a space an inherent rustic appeal that helps us feel at home. On top of this, it's easy to incorporate wooden accents throughout the house. Consider using a trunk in your living room as a coffee table for a vintage flair, dressing an accent wall with vertical shiplap, or searching for antique armoires to add finesse to your foyer.
13. Clear the Clutter
Removing extraneous clutter can make a room feel more inviting, so sort through that stack of mail you've been avoiding, pick up the books you've left strewn across the coffee table, and make the bed so that your mind can relax. If you've got the time for a deep clean, vacuum the carpets, dust the mantel, and wipe down the windows. Then, you'll be ready for an evening of peace and tranquility.
14. Try Jewel Tones
Rich, glamorous hues are perfect to offset the dreary winter months. Choosing decor with bright colors might initially sound intimidating, but even the smallest touch of ruby red or sapphire green can transform a room into a vintage-inspired hideaway.
​​​​​​​

Make the most of this winter by feeling at home in your house. If you're interested in learning more about Kalorama real estate or Nova real estate, contact me for more information.